Description
It is a basic level certification and certifies a candidate's skill in Computerized Accounting and Tally. This certification assists candidates to become job-ready and opens up multiple career options.
Exam vouchers are transmitted electronically via e-mail and are non-refundable.
No Expiry. Lifetime validity.
Please allow up to two days for processing.
The holder of this voucher number is entitled to take one exam.
The voucher number can be used for TallyACE Exam only.
Valid in India only.
SKILLS MEASURED
Fundamentals of Accounting
Inventory Management
Receivables and Payables Management
Generating MIS Reports
Maintaining GST compliant records using Tally
Accounting of TDS other than salary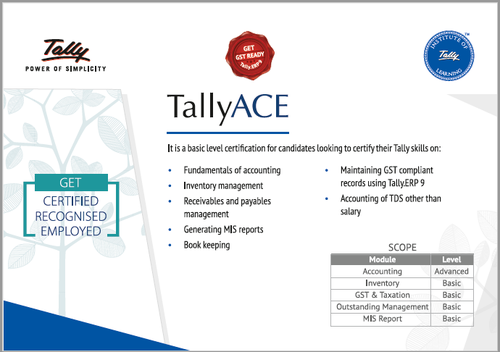 BECOME AN INTERNATIONALLY CERTIFIED CANDIDATE