Description
Earners of the MTA: Introduction to Programming Using Java validates the skills and knowledge to write, debug and maintain well-formed, well documented Java code. The MTA program provides an appropriate entry point to a future career in technology.
The Microsoft Technology Associate (MTA) certification is an excellent way to demonstrate to customers, peers, and employers that you have a comprehensive understanding of the fundamental aspects of Information Technology. Additionally, MTA certification gives you access to Microsoft Certified Solutions Developer (MCSD) resources and puts you on your way to higher-level certifications, such as Microsoft Certified Solutions Associate (MCSA) and Microsoft Certified Solutions Developer (MCSD).
Exam vouchers are transmitted electronically via e-mail and are non-refundable.
Expires in 8 months after the date of purchase.
Please allow up to two days for processing.
The holder of this voucher number is entitled to take one exam.
The voucher number can be used for Exam 98-388 Only.
All vouchers must be used by the same candidate. No candidate association is made until the first voucher is used.
Valid in India only.
CANDIDATE'S BENEFITS
Students with a MTA certification have a credential that validates fundamental knowledge and provides an essential foundation to build a career in technology.
Explore a variety of technology career options before you choose a specialized career path—with minimal investment of time and money.
MTA is the first step in becoming a Microsoft Certified Solutions Associate (MCSA).
MTA builds confidence and helps students succeed with continued studies, compete on admissions, and prepare for a successful career in technology.
MTA complements business and other related courses and degrees with industry-recognized technology credential
SKILLS MEASURED
Understand Java fundamentals (15-20%)
Work with data types, variables, and expressions (40-45%)
Implement flow control (15-20%)
Perform object-oriented programming (10-15%)
Compile and debug code (5-10%)
EARN YOUR DIGITAL BADGE NOW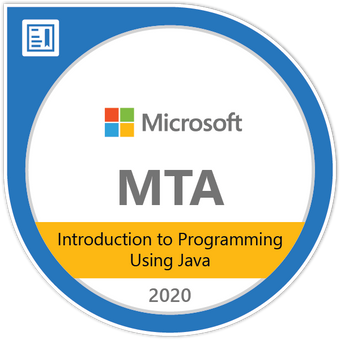 BECOME INTERNATIONALLY CERTIFIED